If you're seeking a refreshing change of pace from complicated art wall arrangements, consider large-scale photography the perfect palate cleanser. Extra-large (roughly 20 inches and larger) photographs look crisp and modern, and they make decorating your walls a snap. Here are eight reasons to make space for a large-scale photograph.
1. One large-scale photo can cost less than a gallery wall. If you are starting from scratch, picking out one statement-making photo to frame (while not cheap) may end up costing less than putting together a wall full of smaller, framed works. Browse online or check local galleries for up-and-coming fine art photographers to find a piece you love.
2. Large-scale photography can be personalized.
Have a treasured photograph from a memorable family trip or event that you would love to see blown up to super-size? With so many services available now, it's easier than you might think to have an extra-large print, poster or even wallpaper made from your own photography.
Tip:
If you want to super-size one of your own family photos, be sure to choose one taken on the highest quality camera you own. Phone photo quality is always improving, but when you're making an enlargement of this magnitude, it's important to go with the highest possible resolution.
3. It brings a gallery-like focus to the work. Museums and galleries hang artwork with plenty of white space surrounding each piece to draw the eye to the intended focal point — a concept you can use at home as well. Choose one favorite photograph and hang it with ample breathing space so it can be fully savored.
4. It meshes well with minimal spaces. A single oversize photograph has a big presence in a room yet doesn't clutter up the space with lots of little frames competing for attention. The overall effect is striking but in a clean, minimal way that works well with sleek, modern interiors.
5. It can transport you to a favorite place

— or somewhere you dream of going

.

Whether your heart is calling you to the wilds of Big Sur or the streets of Rome, there's sure to be a photograph that captures the magic of the place. Keeping a visual reminder of the places you've been (and long to visit) is a wonderful way to infuse your home with a spirit of wanderlust.

Artwork: photographer Christina DeVictor
6. It can bring the outdoors in. Simply looking at leafy green trees can help us feel calmer and more peaceful. Try hanging an extra-large (or even wall-size) nature photograph to immerse yourself in the beauty of the natural world, even if you live in the heart of the city.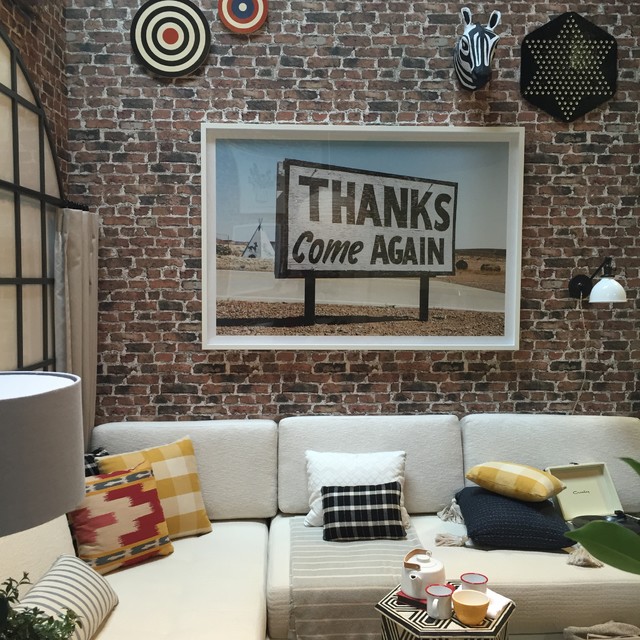 7. It sets the tone. A great big photograph sets the mood in a way that lots of little pieces of art simply cannot match. From funny signage to evocative black-and-white photography, there's a subject and style to suit every mood, so keep looking until you find the piece that speaks to you.
8. It makes things easy. Hang one and you're done — it's as simple as that. With an oversize photograph, there's a lot less leveling and hammering to do, so you can get to the best part: kicking back and enjoying your beautiful space.

Tell us: What's your take on large-format photographs: Do you prefer one big piece, or would you rather have a salon-style art wall with pieces collected over time?